For the best party on wheels at the best price in the north east contact us today on 01642 206607 or 07901017771
To see our buses click on the video's below. Left side is our white bus, right side is our black bus.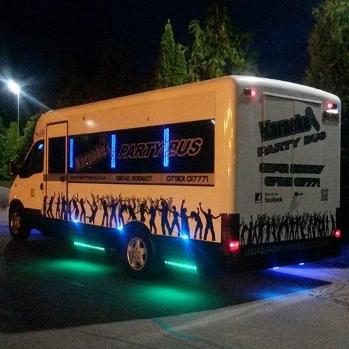 Children's birthday packages. A 30 minute hire including soft drinks from onlyPOA per child if 16 sharing. The children will love the 10,000 watt sound system, karaoke, and fantastic light show.
A full 1hr hire is only POAif 16 sharing. The children will be collected from your address or party venue then taken on a tour in our bus before being dropped off at your chosen destination.
Our drivers are all qualified PCV drivers. We are licensed by the Traffic Commissioner for the northern region and are properly insured including public liability.
For Bliss Partybus Hire, karaoke party bus Middlesbrough, children's party ideas, prom party bus hire, party bus hire Hartlepool, and hen night party bus hire, look no further than www.partyinabus.co.uk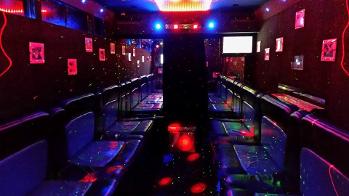 Please read this properly. Pricing.
The prices on this page are to give you an idea of our price range and may not be accurate. Prices are affected by the season, time of hire, day of the week, your location, and the location of any drop off points. Price per person is always based on a full bus of 16 passengers sharing a hire. Prices mentioned are FROM so may not reflect the total price once everything is taken into consideration. We can not possibly account for every possible scenario so please ask for a quote as this is the only way to be sure of the price. £10 per person is for a local one hour hire with 16 passengers sharing an off peak off season hire. Both pick up and drop off must be in the Cleveland area. All prices on this page are accurate for the type of hire they refer to but please read properly. Any prices are "FROM" as prices vary depending on the type of hire and event. The time of the year, day of the week, and time of the day will all affect price.
To the right are photo's of our new 16 seat party bus. Real leather seating and full air conditioning for those hot summer days. Massive sound system and karaoke, fog machine, plus mood lighting, lasers, plus lots more. More like a limousine than a bus which is why we call it, a limo style party bus. Plenty of under seat storage with additional storage in the front cab.
The most popular 16 seat party buses in Newcastle and the north east.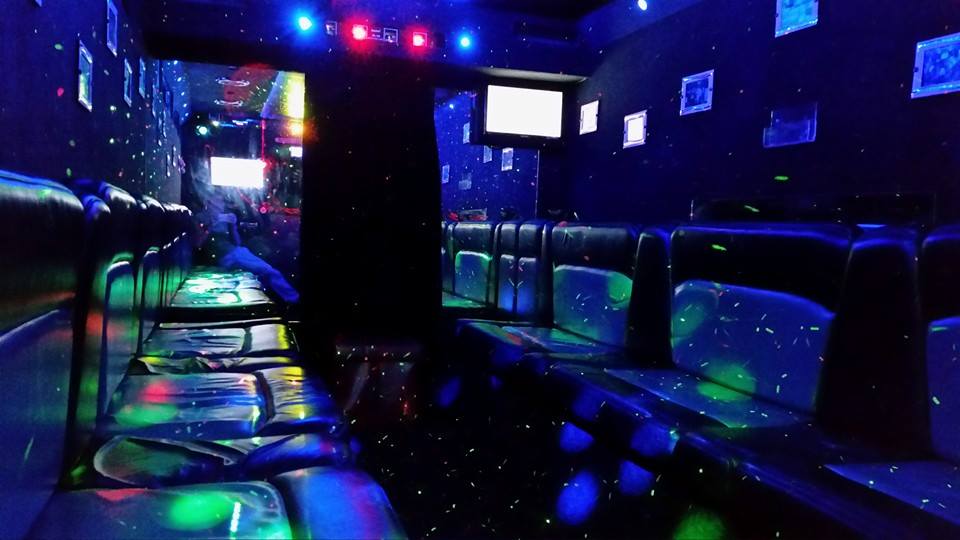 http://www.eventsense.co.uk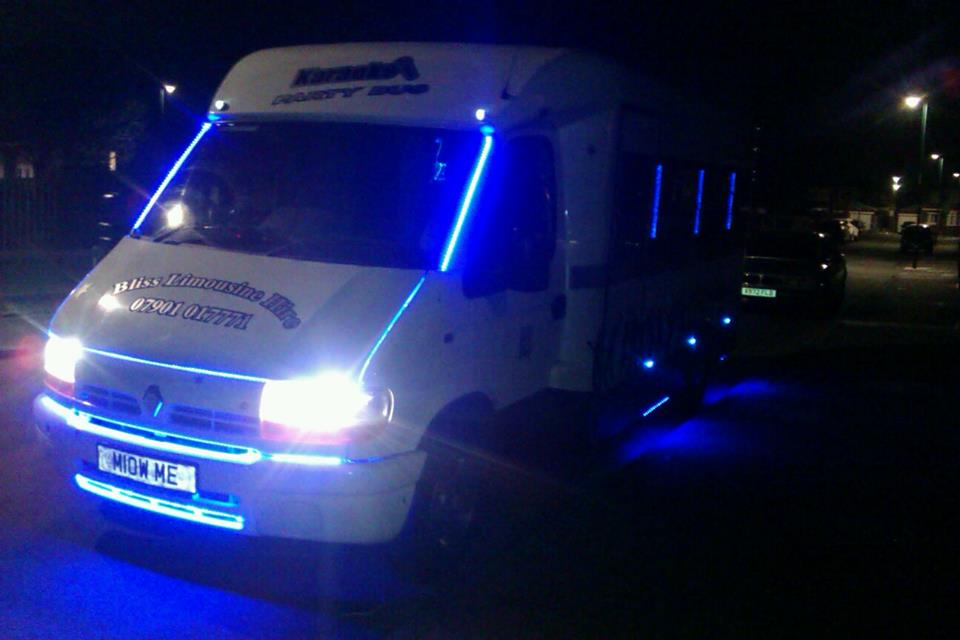 16 seat party bus in black with full leather limo style seats. Lush carpets, lasers, massive sound system with karaoke. We have the two best 16 seat party buses in the north east.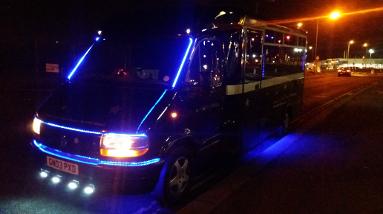 The best party on wheels in the north east. We will pick you and your party up anywhere in the Cleveland area and take you on a tour giving you time to enjoy the 10,000 watt sound system, karaoke, and laser light show. We have music and karaoke tracks from the 60s, 70s, 80s, 90s, and right through 2000 to 2016 so there is something to suit all tastes and all ages. We will then drop you off anywhere in Cleveland. Think about it. There is no better way to start your night and with the saving you have made on your taxi fare you will have had the time of your life almost for free. We also do return packages so you can end the night the way you started it.
If you would like to try a night out in a different city then we can take you and bring you home. Cleveland area including Hartlepool, and Darlington to Newcastle and return from only £25 per person if 16 passengers sharing. (Usual price £30 P/P) Grab this deal while you can. A £50 deposit is required to reserve your bus with the balance payable on the night. Many other destinations including Sunderland, Durham, York, Leeds, Manchester, Blackpool, Liverpool. Contact us for the best deal available anywhere in the north east.
Although we are based in Middlesbrough we do cover the whole of the north east including Newcastle, Sunderland, South Shields, Northumberland, Durham, Bishop Auckland, Richmond, Newton Aycliffe, Catterick, Sedgefield, Stockton, Darlington, Billingham, Hartlepool, Redcar, Marske, Guisborough, Stokesley, Great Ayton, Whitby. Please phone or email for a quote as excess mileage charges may apply.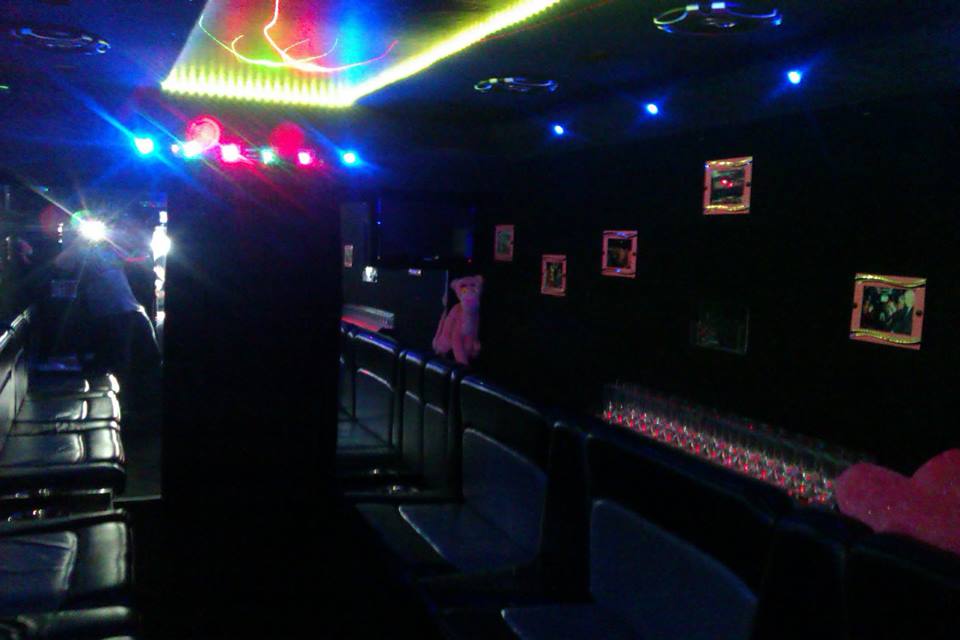 16 seat party bus for any occasion. Proms, weddings, hen parties, birthdays, shopping trips and race meetings.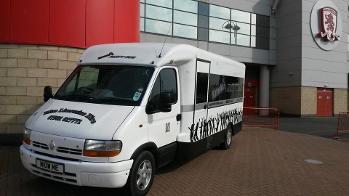 karaoke party bus hire Redcar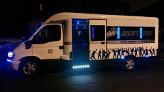 party bus hire Middlesbrough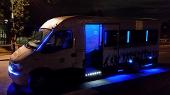 For the best party bus hire Teesside contact us today 07901017771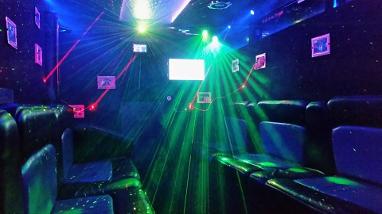 party bus hire Stockton. Party bus hire Darlington. Best Deals.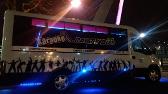 Party bus hire Cleveland, kids party ideas, hen nights, birthdays.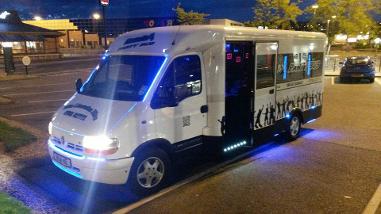 This is my 7 year old son Hadyn who thought he would help me clean the bus. I sent this in to You've been framed but they don't want it as they have enough video's from abroad and they don't have to pay £250 for them. Thought I would put the video on here just so he can watch it from time to time. It really was not set up and the bucket was really full of water. The video was captured on one of our CCTV system cameras.
We now accept credit cards through PayPal. Ask for details by email at blisslimohire@talktalk.net or by phone 01642 206607 or 07901017771 The secure way to pay.