A beautiful matching pair of Chrysler wedding cars for your special day. One Chrysler 300c saloon and one Chrysler 300c 8 seat limousine both decorated in your choice of colours. Both in metalic silver. We have the best choice of wedding vehicles available.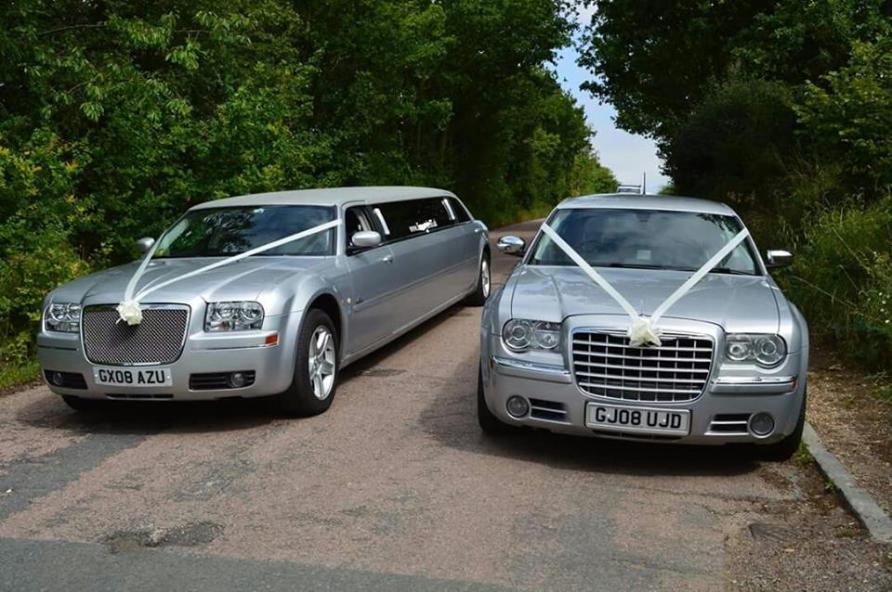 Wedding car hire Middlesbrough. Our silver limousine is perfect for your special day.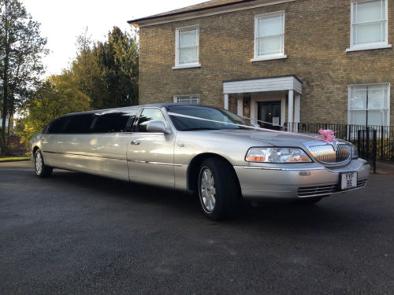 Wedding cars at competitive prices with unbeatable service for your special day. We cover Middlesbrough and the north east. Phone today for a quote.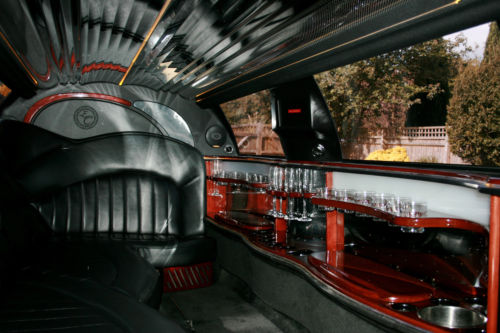 We are a family owned and run business who really care about customer satisfaction and attention to detail. Our priority is to provide the best possible service at the best possible price making your day memorable for all the right reasons. We are properly licensed and insured and everyone concerned in the running of our company are family members or have been known to us for many years. When you hire a limousine or party bus from us we allow more than enough time to ensure that your vehicle will turn up immaculately presented and punctual. You will not be rushed as we will not be trying to fit in extra jobs around your booking so you can rest assured that your vehicle will be there ready and waiting at the exact time you need it.
Are we the cheapest ? I don't know the answer to this as I don't phone around my competitors to find out but I can say with all certainty that our prices are very fair, especially when you take into consideration the excellent service you will receive. We listen to our customers and we are often told that our prices are the keenest in the north east but you are welcome to phone around and find out for yourself. I believe though that you will not find a better service at a better price anywhere. With over 34 years experience, very fair prices and service that can't be matched, why would you book a vehicle from anyone else ?
We make it easy. A £50 deposit secures your booking with the balance payable on the day giving you plenty of time to organise your finances. I don't believe that anyone should have to pay up front but of course should you want to you can. To book with the best limo and party bus company in the north east just phone 01642 206607, or 07901017771, or email us at , blisslimohire@talktalk.net
Click on the thumb nail photo's to enlarge. Anyone can put a white ribbon on an old Rolls Royce Shadow or even a modern limousine but as you can see, we will decorate the limousine with silk flowers and ribbons in your choice of colours. Our limousine decorations are made especially for your wedding. We stock all the popular colours but if we haven't got the colour or shade you require then we will get it for you at no extra charge. We will always do our vey best to match your colour theme so tell us what you want and leave the rest to us. We make the effort for our customers because we believe they deserve the best. If you believe that you deserve the best then contact us today for a quote, and find out why our customers say Bliss Limo and Party Bus Hire are 1st 4 Wedding Car Hire in the north east.
Wedding limousine hire
We have been providing the people of Middlesbrough and the north east a first class wedding car hire service since 1985 so know exactly what it takes to help make your day extra special.
Click on the video to the left and watch the DVD.
look no further for hen night party bus hire, prom party bus hire, children's party ideas, karaoke party bus Middlesbrough, Bliss Partybus Hire, and party bus hire Hartlepool.
Wedding car hire Durham. Wedding car hire Redcar. Wedding car hire Hartlepool. Wedding car hire Stockton. Wedding car hire Darlington. Wedding car hire Sunderland. Wedding car hire Newcastle. Wedding car hire Whitby. Wedding car hire Loftus. Wedding car hire Skelton. Wedding car hire Guisborough. Limo hire Middlesbrough. Limo hire Durham. Limo hire Hartlepool. Limo hire Stockton. Limo hire Redcar. Limo hire North east. Limo hire Sunderland. Limo hire Newcastle